Lisa and I decided to scoot out to the range this morning for quick visit, while grabbing the associated supplies I was reminded that I'm running critically low on ammo, and after digging around for my last box of .308 Win, and a few boxes of my remaining stash of .223 Rem we loaded the car, dropped Jillian at daycare and fled the city. The goal was to quickly throw a few rounds downrange to complete my entries for the Analog Kids September e-postal match, and to give Lisa a little refresher time (as she hasn't been out to the range since before Jillian was born).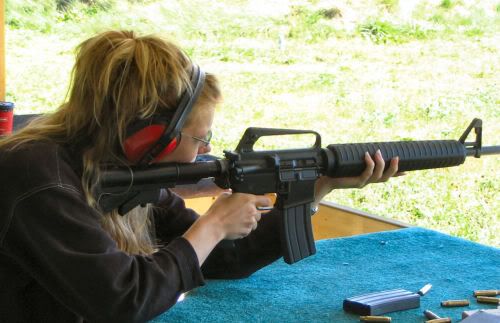 Lisa insisted on shooting the "ducks", and as a consequence has now taken part in her first postal match. I'm afraid I have to admit that the scores were far from perfect. The Tasco scope on my M14 has finally packed it in (with the elevation and windage knobs serving little purpose beyond the decorative) and entirely failing to hit the duck once with the AR15.
Still, it was good to get out to the range and get some shooting in.