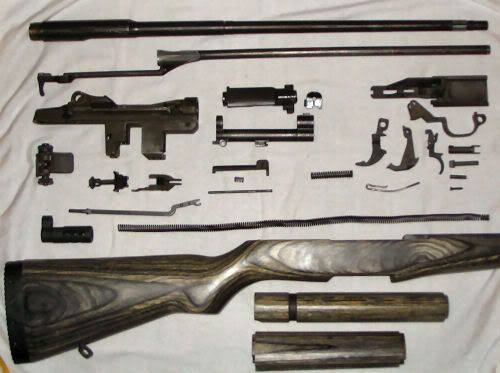 Now, I've dedicated quite a bit of time to the Tactical SKS project (both at home and at the range) and now that it's completed to my satisfaction I have once again turned my attention to a project thats been languishing for almost a year now. My "Frankengarand" project is slated to resume this coming week.
Thats right, my bastardization of a classic rifle is about to begin.
No I am not going to take a piece of history and "bubba" it for my entertainment. The "FrankenGarand" is, in fact, a mutt. Comprised of a Breda (Italian made) receiver, an aftermarket barrel and an assortment of worn parts from Breda, Beretta, Springfield and Winchester. The parts have seen better times, and were originally acquired (for the most part) when I rebuilt my 1942 Springfield M1.
The rifle is slated to be reparkerized, the aftermarket .308 barrel will then be installed, and finally the finished rifle will be dressed up in a Boyds pepper laminate stock. The end result will be, I hope, a fairly modern looking example of an M1.
I will of course strive to document the process from start to finish, in yet another longwinded series of "project updates".
Stay tuned….